I recently joined a group on Facebook for northern Indiana women bloggers. After introducing myself to the group, I found a fellow blogger named Shay who posted about her Featured Friday. She features other bloggers and showcases their blogs on her blog on Fridays.
I told her I was interested, so she sent me some questions . . .
Head over to
her blog
today to check out my answers to her questions!
Her blog is titled
Wonderfully Chaotic
. Go show her some love!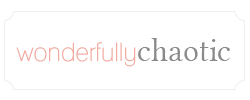 Happy Friday!